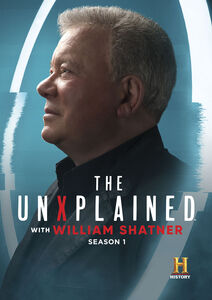 The Unxplained: Season 1
(2 Pack, Widescreen, Dolby)
Release

24-3-2020

Film en TV Genre

Special Interest-Documentary, Science Fiction

Media-indeling

DVD

Gelieve worden geadviseerd. Tenzij anders vermeld, alle BLU-RAY zijn regio A en alle DVD regio 1 codeert. Alvorens te kopen, zorg ervoor dat uw apparatuur kan afspelen deze regio's. Voor meer informatie over regiocodering klikt u op de onderstaande link:
Product notities
Hosted and executive produced by Golden Globe and Emmy Award winning actor, William Shatner, this hit series from HISTORY tackles subjects that have mystified mankind for centuries from Japan's ominous "Suicide Forest" to strange creatures like the Chupacabra to bizarre Voodoo rituals. With compelling contributions from scientists, historians, and first-hand witnesses, each episode seeks to shed light on how the seemingly impossible can happen, providing answers for some while leaving others UnXplained.