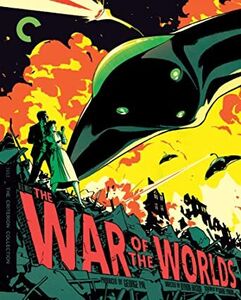 Preview
The War of the Worlds (Criterion Collection)
(4K Mastering, Special Edition, Restored, Subtitled)
Release

7-7-2020

Film en TV Genre

Science Fiction, Horror

Media-indeling

Blu-ray

Gelieve worden geadviseerd. Tenzij anders vermeld, alle BLU-RAY zijn regio A en alle DVD regio 1 codeert. Alvorens te kopen, zorg ervoor dat uw apparatuur kan afspelen deze regio's. Voor meer informatie over regiocodering klikt u op de onderstaande link:
Product notities
H.G. Wells' timeless tale of a Martian invasion of Earth is vividly brought to the screen in this classic film from producer George Pal. Armed with highly advanced technology that includes flying war machines, force fields, and death rays, the Martians are more than a match for humanity. Is there anything on Earth able to defeat the evil alien attackers? Gene Barry, Ann Robinson, Les Tremayne star. 85 min. Standard; Soundtracks: English DTS HD 5.1 Master Audio, Uncompressed PCM mono; Subtitles: English (SDH); audio commentary; featurettes; interview; documentary; 1938 radio broadcast; theatrical trailer; radio program.
Beschrijving
| | |
| --- | --- |
| Titel: | The War of the Worlds (Criterion Collection) |
| Genre: | Science Fiction, Horror |
| Acteurs: | Gene Barry |
| Directeur: | Byron Haskin |
| Studio: | Criterion |
| Kenmerken: | 4K Mastering, Special Edition, Restored, Subtitled |
| Releasedatum: | 7-7-2020 |
| Media-indeling: | Blu-ray |
| Gewaardeerd: | G |
| UPC: | 715515248617 |
| Oorspronkelijke taal: | ENG |
| Ondertitels: | ENG |
| Bewerkingstijd: | 85 minutes |
| Jaar van Release: | 1953 |