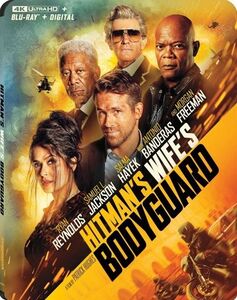 Preview
The Hitman's Wife's Bodyguard
(4K Mastering, With Blu-ray, 2 Pack)
Release

17-8-2021

Film en TV Genre

Action / Adventure, Comedy Video

Media-indeling

4K Ultra HD

Gelieve worden geadviseerd. Tenzij anders vermeld, alle BLU-RAY zijn regio A en alle DVD regio 1 codeert. Alvorens te kopen, zorg ervoor dat uw apparatuur kan afspelen deze regio's. Voor meer informatie over regiocodering klikt u op de onderstaande link:
Product notities
On forced work sabbatical-and barred from using weaponry or lethal force-Michael Bryce (Ryan Reynolds) gets saved from a would-be killer by Sonia Kincaid (Salma Hayek), spouse of frenemy Darius (Samuel L. Jackson). It wasn't out of the goodness of her heart, as she needs Bryce's help springing her husband from the clutches of an international mobster (Antonio Banderas)... and all he's bringing to the fight are his wits. Fast-paced follow-up co-stars Morgan Freeman, Frank Grillo, Richard E. Grant, Tom Hopper. 116 min. Widescreen; Soundtrack: English. Two-disc set.