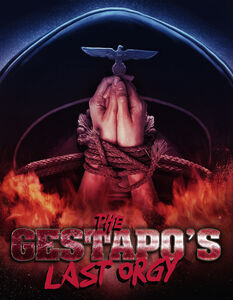 The Gestapo's Last Orgy (aka Caligula Reincarnated as Hitler)
Release

2-11-2021

Film en TV Genre

Cult, Cult-Erotica

Media-indeling

Blu-ray

Gelieve worden geadviseerd. Tenzij anders vermeld, alle BLU-RAY zijn regio A en alle DVD regio 1 codeert. Alvorens te kopen, zorg ervoor dat uw apparatuur kan afspelen deze regio's. Voor meer informatie over regiocodering klikt u op de onderstaande link:
Product notities
Still banned in the UK as one of the infamous Video Nasties, in the tradition of The Night Porter, Salon Kitty and Salo only far more depraved comes perhaps the most notorious Nazisploitation epic of them all! Daniela Levy (aka Italian TV presenter and future UNICEF Goodwill Ambassador Daniela Poggi) stars as a beautiful young death camp prisoner forced into a nightmare of brutality, torment and sexual degradation. But will a Commandant's vilest urge trigger her ultimate vengeance? Marc Loud (aka Adriano Micantoni of Tomb Of Torture) co-stars in this fetid slice of filth-strudel also known as Last Orgy Of The Third Reich And Caligula Reincarnated As Hitler now presented on Blu-ray for the very first time and restored in 2K From the original negatives.
Beschrijving
| | |
| --- | --- |
| Titel: | The Gestapo's Last Orgy (aka Caligula Reincarnated as Hitler) |
| Genre: | Cult, Cult-Erotica |
| Acteurs: | Adriano Micantoni, Daniela Poggi, Maristella Greco, Fulvio Ricciardi, Antiniska Nemour, Caterina Barbero, Domenico Seren Gay, Vittorio Joderi, Pietro Bosco, Pietro Vial |
| Directeur: | Cesare Canevari |
| Studio: | 88 Films |
| Releasedatum: | 2-11-2021 |
| Media-indeling: | Blu-ray |
| Gewaardeerd: | MA |
| UPC: | 760137657880 |
| Oorspronkelijke taal: | ENG |
| Bewerkingstijd: | 96 minutes |
| Jaar van Release: | 1977 |