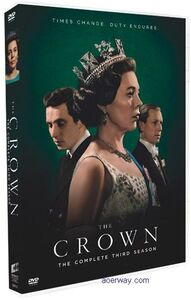 The Crown: The Complete Third Season
(Boxed Set, Widescreen, AC-3, Dubbed)
Release

3-11-2020

Film en TV Genre

TV Drama, British-Television

Media-indeling

Blu-ray

Gelieve worden geadviseerd. Tenzij anders vermeld, alle BLU-RAY zijn regio A en alle DVD regio 1 codeert. Alvorens te kopen, zorg ervoor dat uw apparatuur kan afspelen deze regio's. Voor meer informatie over regiocodering klikt u op de onderstaande link:
Product notities
Ambitious and acclaimed series from "The Queen" scribe Peter Morgan offers a comprehensive look at the adult life and reign of Elizabeth II over a projected five-season arc. The third season follows Elizabeth (Olivia Colman) from the mid-'60s to the late '70s, as she faces the Aberfan disaster, the 1972 Miners' strike, and the affair between her son Charles (Josh O'Connor) and Camilla Shand (Emerald Fennell), while Philip (Tobias Menzies) makes his peace with his infirm mother (Jane Lapotaire) and Margaret (Helena Bonham Carter) finds her union with Antony Armstrong-Jones (Ben Daniels) disintegrating. Jason Watkins, Michael Maloney, Charles Dance, Erin Doherty also star.10 episodes on 4 discs. 9 3/4 hrs. Widescreen; Soundtrack: English.
Beschrijving
| | |
| --- | --- |
| Titel: | The Crown: The Complete Third Season |
| Genre: | TV Drama, British-Television |
| Studio: | Sony Pictures |
| Aantal discs: | 4 |
| Kenmerken: | Boxed Set, Widescreen, AC-3, Dubbed |
| Releasedatum: | 3-11-2020 |
| Media-indeling: | Blu-ray |
| Gewaardeerd: | NR |
| UPC: | 043396569911 |
| Bijnaam: | FRE |
| Oorspronkelijke taal: | ENG |
| Ondertitels: | ARB, DAN, DUT, ENG, EST, FIN, FRE, NOR, SWE |
| Jaar van Release: | 2019 |