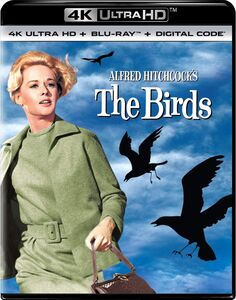 Preview
The Birds
(4K Mastering, With Blu-ray, 2 Pack, Digital Copy)
Release

25-5-2021

Film en TV Genre

Mystery / Suspense, Horror

Media-indeling

4K Ultra HD

Gelieve worden geadviseerd. Tenzij anders vermeld, alle BLU-RAY zijn regio A en alle DVD regio 1 codeert. Alvorens te kopen, zorg ervoor dat uw apparatuur kan afspelen deze regio's. Voor meer informatie over regiocodering klikt u op de onderstaande link:
Product notities
Nature runs amok in Alfred Hitchcock's loose adaptation of Daphne du Maurier's novelette. After an encounter in a San Francisco bird shop, wealthy socialite Melanie Daniels (Tippi Hedren) follows handsome Mitch Brenner (Rod Taylor) to a small California coastal town that is soon under attack by gulls, crows, and other fine feathered "friends." Jessica Tandy, Veronica Cartwright, Suzanne Pleshette also star in this classic shocker. 120 min. Widescreen; Soundtracks: English DTS HD mono Master Audio, Spanish DTS mono, French DTS mono, Portuguese DTS mono, Japanese DTS mono; Subtitles: English (SDH), Spanish, French, Portuguese, Japanese; original ending; featurettes; deleted scene; more. Two-disc set.