Resultaten weergeven voor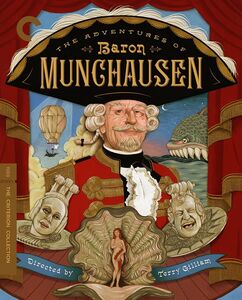 The Adventures of Baron Munchausen (Criterion Collection)
(4K Mastering, With Blu-ray, Widescreen, AC-3)
Release

3-1-2023

Film en TV Genre

Action / Adventure, Comedy Video

Media-indeling

4K Ultra HD

Gelieve worden geadviseerd. Tenzij anders vermeld, alle BLU-RAY zijn regio A en alle DVD regio 1 codeert. Alvorens te kopen, zorg ervoor dat uw apparatuur kan afspelen deze regio's. Voor meer informatie over regiocodering klikt u op de onderstaande link:
Product notities
From director Terry Gilliam comes a fantastic saga about the world's most famous liar. Join 18th-century German nobleman Baron Munchausen (John Neville) on his incredible voyages around the world and beyond, as he encounters a sea monster, Roman deities Vulcan (Oliver Reed) and Venus (Uma Thurman), the King of the Moon (Robin Williams, credited as Ray D. Tutto), and more. Sarah Polley, Eric Idle, Jonathan Pryce also star. 126 min. Widescreen (Enhanced); Soundtrack: English DTS HD 5.1 Master Audio; Subtitles: English (SDH); audio commentary by Gilliam; "making of" documentary; video essay; behind-the-scenes footage; deleted scenes; storyboards; theatrical trailer; featurettes; bonus short "Miracle of Flight" (1974); more. Three-disc set.
Beschrijving
| | |
| --- | --- |
| Titel: | The Adventures of Baron Munchausen (Criterion Collection) |
| Genre: | Action / Adventure, Comedy Video |
| Acteurs: | John Neville, Eric Idle, Sarah Polley, Oliver Reed, Charles McKeown, Winston Dennis, Jack Purvis, Valentina Cortese, Jonathan Pryce, Bill Paterson |
| Theme: | Fantasy |
| Directeur: | Terry Gilliam |
| Studio: | Criterion Collection |
| Aantal discs: | 3 |
| Kenmerken: | 4K Mastering, With Blu-ray, Widescreen, AC-3 |
| Releasedatum: | 3-1-2023 |
| Media-indeling: | 4K Ultra HD |
| Gewaardeerd: | PG |
| UPC: | 715515280419 |
| Oorspronkelijke taal: | ENG |
| Ondertitels: | ENG |
| Bewerkingstijd: | 126 minutes |
| Jaar van Release: | 1989 |