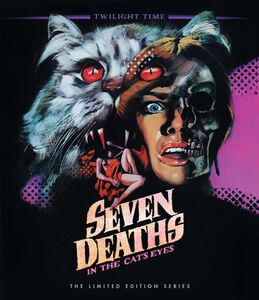 Seven Deaths in the Cat's Eyes (Corringa, La Morte Negli Occhi Del Gatto)
Release

28-12-2021

Film en TV Genre

Horror

Media-indeling

Blu-ray

Gelieve worden geadviseerd. Tenzij anders vermeld, alle BLU-RAY zijn regio A en alle DVD regio 1 codeert. Alvorens te kopen, zorg ervoor dat uw apparatuur kan afspelen deze regio's. Voor meer informatie over regiocodering klikt u op de onderstaande link:
Product notities
When a fractious aristocratic family gathers at an ancestral Scottish castle, a straight razor-wielding murderer is also an unwelcome guest in Seven Deaths in the Cat's Eyes (1973, aka Corringa or La morte negli occhi del gatto), a blood-laced thriller - complete with giallo flourishes, tantalizing sexuality, a pet gorilla and an omnipresent ginger tabby - from genre filmmaker Antonio Margheriti (aka Anthony M. Dawson). Singer/actress Jane Birkin plays the willowy heroine whose arrival foreshadows several unnatural deaths, Hiram Keller is the possibly unhinged lord of the manor with a cursed history, and the ensemble includes schemers with homicidal tendencies, all underscored by the shudder-inducing music of the great Riz Ortolani.
Beschrijving
| | |
| --- | --- |
| Titel: | Seven Deaths in the Cat's Eyes (Corringa, La Morte Negli Occhi Del Gatto) |
| Genre: | Horror |
| Acteurs: | Jane Birkin, Hiram Keller, Françoise Christophe, Venantino Venantini, Doris Kunstmann, Anton Diffring, Dana Ghia, Konrad Georg, Serge Gainsbourg, Luciano Pigozzi |
| Directeur: | Antonio Margheriti |
| Studio: | Twilight Time |
| Releasedatum: | 28-12-2021 |
| Media-indeling: | Blu-ray |
| UPC: | 700261486178 |
| Bewerkingstijd: | 95 minutes |
| Jaar van Release: | 1973 |