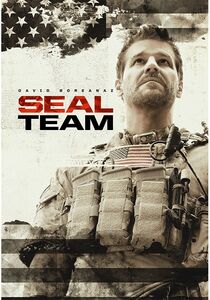 SEAL Team: Season Three
(Boxed Set, Widescreen, Subtitled, Amaray Case)
Release

25-8-2020

Film en TV Genre

TV Action & Adventure, Television

Media-indeling

DVD

Gelieve worden geadviseerd. Tenzij anders vermeld, alle BLU-RAY zijn regio A en alle DVD regio 1 codeert. Alvorens te kopen, zorg ervoor dat uw apparatuur kan afspelen deze regio's. Voor meer informatie over regiocodering klikt u op de onderstaande link:
Product notities
Bravo is back and the whole team is reunited! Season three of SEAL TEAM begins with Jason Hayes (David Boreanaz) leading the team on a mission in Serbia, but they question Clay's (Max Thieriot) readiness after his injuries last year. Also, Davis (Toni Tucks) will struggle with the pressure of her new job as the teams Intel Officer. Some scenes were filmed on location in Serbia.