Resultaten weergeven voor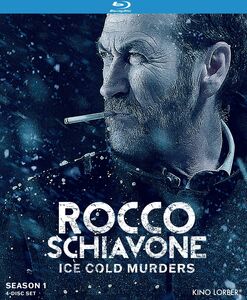 Rocco Schiavone: Ice Cold Murders (Season 1)
(4 Pack)
Release

26-4-2022

Film en TV Genre

TV Crime, Television

Media-indeling

Blu-ray

Gelieve worden geadviseerd. Tenzij anders vermeld, alle BLU-RAY zijn regio A en alle DVD regio 1 codeert. Alvorens te kopen, zorg ervoor dat uw apparatuur kan afspelen deze regio's. Voor meer informatie over regiocodering klikt u op de onderstaande link:
Product notities
Insubordination found irritable, dope-smoking deputy commissioner Rocco Schiavone (Marco Giallini) bounced from his hometown Roman beat to the snowbound climes of the Alpine resort city Aosta. Loathing the cold and liking his new colleagues little better, the canny cop still found plenty of worthy challenges on the homicide blotter. Flavorful take on Antonio Manzini's fiction co-stars Ernesto D'Argenio, Claudia Vismara, Caterina Rispoli, Massimiliano Caprara, Christian Ginepro, Isabella Ragonese, Francesco Acquaroli.6 episodes on 4 discs 10 1/4 hrs. Widescreen; Soundtracks: Italian, English; Subtitles: English; theatrical trailers. In Italian with English subtitles.
Beschrijving
| | |
| --- | --- |
| Titel: | Rocco Schiavone: Ice Cold Murders (Season 1) |
| Genre: | TV Crime, Television |
| Directeur: | Michele Soavi |
| Studio: | Kino Lorber |
| Aantal discs: | 4 |
| Kenmerken: | 4 Pack |
| Releasedatum: | 26-4-2022 |
| Media-indeling: | Blu-ray |
| Gewaardeerd: | NR |
| UPC: | 738329258382 |
| Oorspronkelijke taal: | ITA |
| Bewerkingstijd: | 615 minutes |
| Jaar van Release: | 2016 |