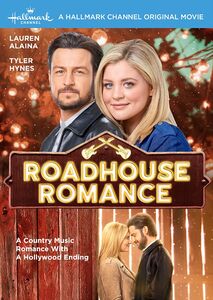 Roadhouse Romance
Release

7-12-2021

Film en TV Genre

TV Drama, Television

Media-indeling

DVD

Gelieve worden geadviseerd. Tenzij anders vermeld, alle BLU-RAY zijn regio A en alle DVD regio 1 codeert. Alvorens te kopen, zorg ervoor dat uw apparatuur kan afspelen deze regio's. Voor meer informatie over regiocodering klikt u op de onderstaande link:
Product notities
Back home from her deployment overseas, Callie (Lauren Alaina) was faced with her grandfather's passing, the family BBQ stop now struggling, and her boyfriend having moved on. After initially clashing with passing-through-town filmmaker Luke (Tyler Hynes), she starts to find chemistry-and perhaps the answer to her problems. Music-tinged charmer from Hallmark also stars Sarah Edmondson, Michael Teigen, Rachelle Goulding. 84 min. Widescreen; Soundtrack: English.
Beschrijving
| | |
| --- | --- |
| Titel: | Roadhouse Romance |
| Genre: | TV Drama, Television |
| Studio: | Hallmark |
| Releasedatum: | 7-12-2021 |
| Media-indeling: | DVD |
| Gewaardeerd: | NR |
| UPC: | 767685166512 |
| Oorspronkelijke taal: | ENG |
| Bewerkingstijd: | 84 minutes |
| Jaar van Release: | 2021 |