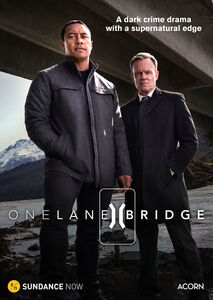 One Lane Bridge
Release

25-5-2021

Film en TV Genre

TV Crime, Television

Media-indeling

DVD

Gelieve worden geadviseerd. Tenzij anders vermeld, alle BLU-RAY zijn regio A en alle DVD regio 1 codeert. Alvorens te kopen, zorg ervoor dat uw apparatuur kan afspelen deze regio's. Voor meer informatie over regiocodering klikt u op de onderstaande link:
Product notities
In this dark crime drama with a supernatural edge, a small town in New Zealand is upended when a local man's body is found at the bottom of a one-lane bridge that's long been a locus of unexplained events. While investigating the murder, an ambitious Māori detective inadvertently reawakens his second sight, a gift that endangers his life but may help solve the mystery of the sinister landmark.