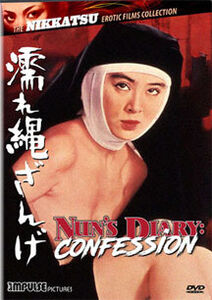 Nun's Diary: Confession (The Nikkatsu Erotic Films Collection)
Release

10-12-2019

Film en TV Genre

Cult-Erotica, Foreign-Japanese

Media-indeling

DVD

Gelieve worden geadviseerd. Tenzij anders vermeld, alle BLU-RAY zijn regio A en alle DVD regio 1 codeert. Alvorens te kopen, zorg ervoor dat uw apparatuur kan afspelen deze regio's. Voor meer informatie over regiocodering klikt u op de onderstaande link:
Product notities
Darling young Miki's marital happiness is shattered when her honeymoon is interrupted by a couple of ruffians who assault her husband and violate her. So embarrassed by this, Miki's husband forces her to leave and never come back. Now feeling lost and suicidal, Miki encounters Priest Xavier, who convinces her to come with him and be taken under the wing of his flock of nuns, led by Sister Maria. But as Miki settles in, she soon learns that things aren't as they first appeared... These nuns are part of a secret club for local sinners - a bacchanal where Miki, as the new girl, is to be sold off to the highest bidder who can then do whatever he wants with her. Miki's love interest sees this as it happens - but will he be able to save her? Following in the genre of nunsploitation Nikkatsu explored to equal panache in NUN STORY: FRUSTRATION IN BLACK, NUN'S DIARY: CONFESSION will leave it's mark!
Beschrijving
| | |
| --- | --- |
| Titel: | Nun's Diary: Confession (The Nikkatsu Erotic Films Collection) |
| Genre: | Cult-Erotica, Foreign-Japanese |
| Directeur: | Koyu Ohara |
| Studio: | Impulse Pictures |
| Releasedatum: | 10-12-2019 |
| Media-indeling: | DVD |
| UPC: | 654930111192 |
| Oorspronkelijke taal: | JAP |
| Ondertitels: | ENG |
| Bewerkingstijd: | 70 minutes |
| Jaar van Release: | 1978 |