Resultaten weergeven voor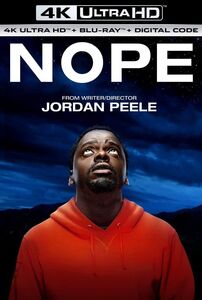 Preview
Nope
(4K Mastering, With Blu-ray, Digital Copy)
Release

25-10-2022

Film en TV Genre

Horror, Science Fiction

Media-indeling

4K Ultra HD

Gelieve worden geadviseerd. Tenzij anders vermeld, alle BLU-RAY zijn regio A en alle DVD regio 1 codeert. Alvorens te kopen, zorg ervoor dat uw apparatuur kan afspelen deze regio's. Voor meer informatie over regiocodering klikt u op de onderstaande link:
Product notities
His father unexpectedly killed by an object that mysteriously fell from the sky, OJ Haywood (Daniel Kaluuya) must now keep the family's California ranch afloat. But OJ and his sister Em (Keke Palmer) may have even bigger problems as they team up with a tech store employee (Brandon Perea) and a veteran filmmaker (Michael Wincott) in order to prove the existence of a UFO. Steven Yeun, Keith David co-star in Jordan Peele's clever horror/sci-fi tale. 130 min. Widescreen; Soundtrack: English. Two-disc set.
Beschrijving
| | |
| --- | --- |
| Titel: | Nope |
| Genre: | Horror, Science Fiction |
| Acteurs: | Daniel Kaluuya, Keke Palmer, Brandon Perea, Michael Wincott, Steven Yeun, Wrenn Schmidt, Keith David, Devon Graye, Terry Notary, Barbie Ferreira |
| Directeur: | Jordan Peele |
| Studio: | Universal Studios |
| Aantal discs: | 2 |
| Kenmerken: | 4K Mastering, With Blu-ray, Digital Copy |
| Releasedatum: | 25-10-2022 |
| Media-indeling: | 4K Ultra HD |
| UPC: | 191329226148 |
| Oorspronkelijke taal: | ENG |
| Bewerkingstijd: | 131 minutes |
| Jaar van Release: | 2022 |