Resultaten weergeven voor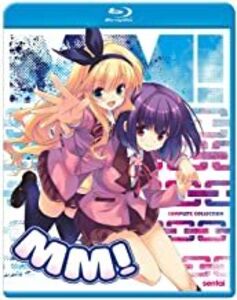 Mm!
(Subtitled, Anamorphic)
Release

27-7-2021

Film en TV Genre

Anime-Japanese

Media-indeling

Blu-ray

Gelieve worden geadviseerd. Tenzij anders vermeld, alle BLU-RAY zijn regio A en alle DVD regio 1 codeert. Alvorens te kopen, zorg ervoor dat uw apparatuur kan afspelen deze regio's. Voor meer informatie over regiocodering klikt u op de onderstaande link:
Product notities
Love can be painful, but Sado seems to like it that way. However, since he knows that's odd for a high school student, Sado decides to join a certain club where he can beat out his masochistic tendencies. Unfortunately, that's like putting out a fire with gasoline, as the club members all have "issues" of their own, and guess who's about to become the new favorite whipping boy? Is even Sado ready for a nurse who forces other people into cosplay and a club president who believes herself to be a goddess? And if that's not complicated enough, toss in man-shy Yuno, the same girl who introduced Sado to his love of negative reinforcement, and Hayama, Sado's best friend and a compulsive cross-dresser who's also the girl that Sado is (unknowingly) infatuated with! Love is about to get really, really weird in MM!
Beschrijving
| | |
| --- | --- |
| Titel: | Mm! |
| Genre: | Anime-Japanese |
| Studio: | Section 23 |
| Aantal discs: | 2 |
| Kenmerken: | Subtitled, Anamorphic |
| Releasedatum: | 27-7-2021 |
| Media-indeling: | Blu-ray |
| UPC: | 816726025148 |
| Oorspronkelijke taal: | ENG, JAP |
| Ondertitels: | ENG |
| Bewerkingstijd: | 300 minutes |