Resultaten weergeven voor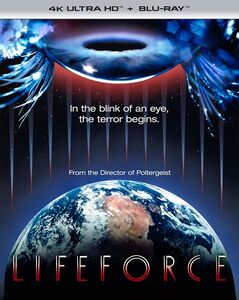 Preview
Lifeforce
(4K Mastering, Collector's Edition, 3 Pack)
Release

24-5-2022

Film en TV Genre

Science Fiction, Horror

Media-indeling

4K Ultra HD

Gelieve worden geadviseerd. Tenzij anders vermeld, alle BLU-RAY zijn regio A en alle DVD regio 1 codeert. Alvorens te kopen, zorg ervoor dat uw apparatuur kan afspelen deze regio's. Voor meer informatie over regiocodering klikt u op de onderstaande link:
Product notities
Tobe Hooper ("Poltergeist") directs this sci-fi shocker, based on the book "Space Vampires" by Colin Wilson. The only survivors of a doomed space expedition are one crew member and a trio of humanoids discovered in suspended animation. Once brought back to London, the aliens reveal their ability to drain the life force out of living beings, putting everyone on Earth in jeopardy. Steve Railsback, Peter Firth, Mathilda May, Frank Finlay, and Patrick Stewart star. 101 min. Widescreen; Soundtrack: English Dolby Atmos; Subtitles: English. Three-disc set.
Beschrijving
| | |
| --- | --- |
| Titel: | Lifeforce |
| Genre: | Science Fiction, Horror |
| Acteurs: | Steve Railsback, Peter Firth, Frank Finlay, Mathilda May, Patrick Stewart, Michael Gothard, Nicholas Ball, Aubrey Morris, Nancy Paul, John Hallam |
| Directeur: | Tobe Hooper |
| Studio: | Shout Factory |
| Aantal discs: | 3 |
| Kenmerken: | 4K Mastering, Collector's Edition, 3 Pack |
| Releasedatum: | 24-5-2022 |
| Media-indeling: | 4K Ultra HD |
| Gewaardeerd: | R |
| UPC: | 826663223712 |
| Oorspronkelijke taal: | ENG |
| Jaar van Release: | 1985 |