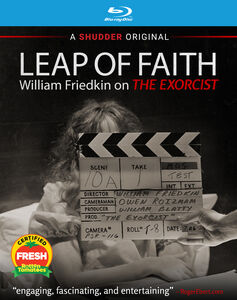 Preview
Leap of Faith: William Friedkin on "The Exorcist"
Release

13-4-2021

Film en TV Genre

Special Interest-Documentary, Horror

Media-indeling

Blu-ray

Gelieve worden geadviseerd. Tenzij anders vermeld, alle BLU-RAY zijn regio A en alle DVD regio 1 codeert. Alvorens te kopen, zorg ervoor dat uw apparatuur kan afspelen deze regio's. Voor meer informatie over regiocodering klikt u op de onderstaande link:
Product notities
In the early 70's, director William Friedkin was coming off the Oscar-winning triumph of "The French Connection" when he signed on to adapt William Peter Blatty's best-selling horror novel, and the end product would define shock cinema for the decade. Filmmaker Alexandre Philippe ("Memory: The Origins of Alien") sat down with Friedkin for a deep dive on his iconic effort, where he shares his memories of the production and explains how his creative process informed the chilling on-screen results. 104 min. Widescreen; Soundtrack: English.