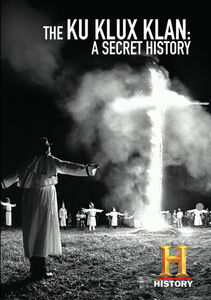 The Ku Klux Klan: A Secret History
(Manufactured on Demand, Dolby)
Release

25-8-2020

Film en TV Genre

Special Interest-Documentary

Media-indeling

DVD

Gelieve worden geadviseerd. Tenzij anders vermeld, alle BLU-RAY zijn regio A en alle DVD regio 1 codeert. Alvorens te kopen, zorg ervoor dat uw apparatuur kan afspelen deze regio's. Voor meer informatie over regiocodering klikt u op de onderstaande link:
Product notities
It has been among the most powerful fraternal organizations in America, boasting up to four million members, and has survived for more than a century by wrapping it's doctrine of hate and intolerance around the ideals of Christianity and patriotism. THE KU KLUX KLAN: A SECRET HISTORY reveals the dark heart of this controversial organization. Join authors David M. Chalmers (Hooded Americanism: The History of the Ku Klux Klan) and Wyn Craig Wade (The Fiery Cross: The Ku Klux Klan in America) as they trace the history of the Klan from it's birth in 1866 to the present. Discover how it adapted and responded to crises like the civil rights movement and affirmative action. Witness interviews with the Klan's Grand Dragon and Imperial Wizard, and listen as civil rights activists offer a starkly opposing viewpoint. From the ashes of the Civil War to David Duke, HISTORY chronicles 130 years of institutionalized hatred and violence.
Beschrijving
| | |
| --- | --- |
| Titel: | The Ku Klux Klan: A Secret History |
| Genre: | Special Interest-Documentary |
| Studio: | A&E |
| Kenmerken: | Manufactured on Demand, Dolby |
| Releasedatum: | 25-8-2020 |
| Media-indeling: | DVD |
| Gewaardeerd: | G |
| UPC: | 733961730401 |
| Bewerkingstijd: | 100 minutes |
| Jaar van Release: | 1998 |