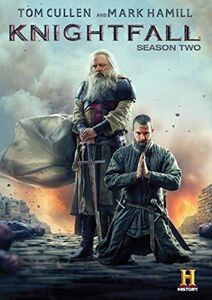 Knightfall: Season Two
(2 Pack)
Release

6-8-2019

Film en TV Genre

TV Drama, TV Action & Adventure

Media-indeling

DVD

Gelieve worden geadviseerd. Tenzij anders vermeld, alle BLU-RAY zijn regio A en alle DVD regio 1 codeert. Alvorens te kopen, zorg ervoor dat uw apparatuur kan afspelen deze regio's. Voor meer informatie over regiocodering klikt u op de onderstaande link:
Product notities
In the early 14th century, veteran warrior and high-ranking member of the Knights Templar Landry du Lauzon (Tom Cullen) has grown disillusioned with his order. He finds his faith in the Templars reinvigorated, however, when the death of his mentor causes him to lead his fellow knights on a quest to find the Holy Grail. Debuting on History in 2017, this exciting series co-stars Jim Carter, Pádraic Delaney, Simon Merrells, Julian Ovenden, Olivia Ross. 8 episodes on 2 discs. 5 3/4 hrs. Widescreen; Soundtrack: English.