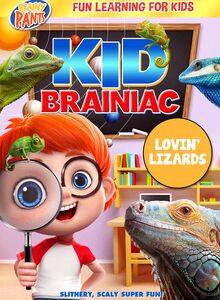 Kid Brainiac: Lovin' Lizards
Release

26-3-2021

Film en TV Genre

Animation

Media-indeling

DVD

DVD-regio

1

Gelieve worden geadviseerd. Tenzij anders vermeld, alle BLU-RAY zijn regio A en alle DVD regio 1 codeert. Alvorens te kopen, zorg ervoor dat uw apparatuur kan afspelen deze regio's. Voor meer informatie over regiocodering klikt u op de onderstaande link:
Product notities
When young genius Felix Brainiac teams up with his time-traveling dinosaur pal Big T, the duo sets out on an amazing adventure, going where no kid and dino have gone before! They enlist the help of Grandpa Brainiac, the great genius who has taught Felix everything he knows. As Grandpa Brainiac scours space and time in his ultra modern spaceship, he teaches Felix and Big T all the facts and all the knowledge! This time, join Felix and Big T as they meet the most fascinating lizards under the sun in Kid Brainiac: Lovin' Lizards!