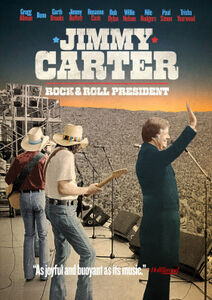 Preview
Jimmy Carter: Rock & Roll President
Release

3-11-2020

Film en TV Genre

Special Interest-Documentary, Biography

Media-indeling

DVD

Gelieve worden geadviseerd. Tenzij anders vermeld, alle BLU-RAY zijn regio A en alle DVD regio 1 codeert. Alvorens te kopen, zorg ervoor dat uw apparatuur kan afspelen deze regio's. Voor meer informatie over regiocodering klikt u op de onderstaande link:
Product notities
A nearly forgotten aspect of the Jimmy Carter presidency is how he became America's first chief executive to actively and earnestly embrace the soundtrack of the counterculture-rock music. Archival footage from the diverse South Lawn concerts thrown during the late '70s is complemented by contemporary interviews with Carter himself, as well as artists he'd personally come to know including Bob Dylan, Willie Nelson, Gregg Allman, Jimmy Buffett, Bono, Garth Brooks, many more. 95 min. Widescreen; Soundtrack: English; theatrical trailers.