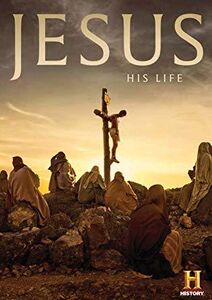 Jesus: His Life
(Widescreen, Dolby, 2 Pack)
Release

6-8-2019

Film en TV Genre

TV Mini-Series, Drama

Media-indeling

DVD

Gelieve worden geadviseerd. Tenzij anders vermeld, alle BLU-RAY zijn regio A en alle DVD regio 1 codeert. Alvorens te kopen, zorg ervoor dat uw apparatuur kan afspelen deze regio's. Voor meer informatie over regiocodering klikt u op de onderstaande link:
Product notities
Greg Barnett, Houda Echouagni, Cassie Bradley, Abhin Galeya, John Hopkins, Amed Hashimi. In this unique religious miniseries, each episode focuses on a different part of Jesus's life through the lens of specific teller who knew him. Joseph, John the Baptist, Mary Mother of Jesus, Judas Iscariot and more contribute to the insightful telling. 8 episodes on 2 DVDs. 2019/color/8 hrs/TV-PG/widescreen.
Beschrijving
| | |
| --- | --- |
| Titel: | Jesus: His Life |
| Genre: | TV Mini-Series, Drama |
| Studio: | A&E Home Video |
| Aantal discs: | 2 |
| Kenmerken: | Widescreen, Dolby, 2 Pack |
| Releasedatum: | 6-8-2019 |
| Media-indeling: | DVD |
| Gewaardeerd: | TVPG |
| UPC: | 031398305231 |
| Gesloten Bijschrift: | No |
| Bewerkingstijd: | 344 minutes |
| Jaar van Release: | 2019 |