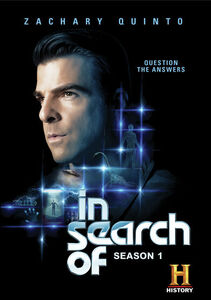 In Search Of: Season 1
(Manufactured on Demand, Dolby, 2 Pack)
Release

15-9-2020

Film en TV Genre

TV Sci-Fi, Television

Media-indeling

DVD

Gelieve worden geadviseerd. Tenzij anders vermeld, alle BLU-RAY zijn regio A en alle DVD regio 1 codeert. Alvorens te kopen, zorg ervoor dat uw apparatuur kan afspelen deze regio's. Voor meer informatie over regiocodering klikt u op de onderstaande link:
Product notities
Inspired by the iconic 1970s franchise of the same name, IN SEARCH OF delves into all manners of mysterious phenomena throughout the world, from the mythical to the scientific. Primetime Emmy nominee Zachary Quinto serves as host and lead investigator, with each one-hour episode exploring a different subject from superhumans, alien life, and artificial intelligence to Atlantis, time travel, and much more. In the end, the world's top historians and scientists reveal brand-new theories and evidence that could completely change our thinking on these enigmatic topics.
Beschrijving
| | |
| --- | --- |
| Titel: | In Search Of: Season 1 |
| Genre: | TV Sci-Fi, Television |
| Acteurs: | Zachary Quinto |
| Studio: | A&E |
| Aantal discs: | 2 |
| Kenmerken: | Manufactured on Demand, Dolby, 2 Pack |
| Releasedatum: | 15-9-2020 |
| Media-indeling: | DVD |
| Gewaardeerd: | TVPG |
| UPC: | 031398321743 |
| Bewerkingstijd: | 430 minutes |
| Jaar van Release: | 2020 |