Resultaten weergeven voor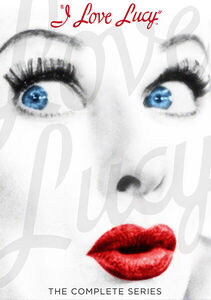 I Love Lucy: The Complete Series
(Boxed Set, Full Frame, Repackaged, Dubbed)
Release

21-7-2020

Film en TV Genre

TV Comedy, Television

Media-indeling

DVD

Gelieve worden geadviseerd. Tenzij anders vermeld, alle BLU-RAY zijn regio A en alle DVD regio 1 codeert. Alvorens te kopen, zorg ervoor dat uw apparatuur kan afspelen deze regio's. Voor meer informatie over regiocodering klikt u op de onderstaande link:
Product notities
In 1951, film actress Lucille Ball and her musician husband Desi Arnaz spent $5,000 to produce a TV sitcom pilot about a Cuban-born bandleader named Ricky Ricardo, his zany, starstruck wife Lucy, and their madcap life in a Manhattan apartment. The result was the decade's biggest show and a landmark in TV history that ran until 1957. William Frawley and Vivian Vance co-star as the Ricardos' best friends and neighbors, Fred and Ethel Mertz. Includes seasons one through six of "I Love Lucy" and the three-season run of "The Lucy-Desi Comedy Hour. " 193 episodes on 33 discs. 90 hrs. Standard; Soundtracks: English Dolby Digital mono, Spanish Dolby Digital mono; Subtitles: Spanish; bonus footage.