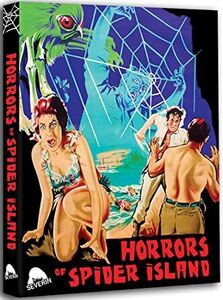 Horrors of Spider Island
Release

16-6-2020

Film en TV Genre

Drama

Media-indeling

Blu-ray

Gelieve worden geadviseerd. Tenzij anders vermeld, alle BLU-RAY zijn regio A en alle DVD regio 1 codeert. Alvorens te kopen, zorg ervoor dat uw apparatuur kan afspelen deze regio's. Voor meer informatie over regiocodering klikt u op de onderstaande link:
Product notities
Produced in 1960 as BODY IN THE WEB, it became a notorious Adults Only feature throughout Europe (though banned in the UK). Three years later and sheared of it's nudity, it was repackaged for American audiences as a brain-melting monster movie filled with stripper-cat-fights, skimpy lingerie, and radioactive arachnids. Alexander D'Arcy, whose Hollywood career ranged from Leo McCarey's THE AWFUL TRUTH to Al Adamson's BLOOD OF DRACULA'S CASTLE, and 'The German Jayne Mansfield' Barbara Valentin (BERLIN ALEXANDERPLATZ) star in "the ultimate exploitation movie" (PsychotronicReview. Com), produced by Wolf C. Hartwig of BLOODY MOON and SCHOOL GIRL REPORT infamy. Severin Films is proud to present both the completely uncensored version, scanned from the Düsseldorf dupe negative, as well as the alternate U. S. release, scanned from a pristine low con print - now together for the first time.