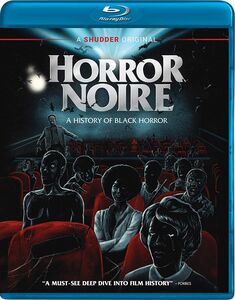 Preview
Horror Noire: A History of Black Horror
Release

2-2-2021

Film en TV Genre

Horror, Special Interest-Documentary

Media-indeling

Blu-ray

Gelieve worden geadviseerd. Tenzij anders vermeld, alle BLU-RAY zijn regio A en alle DVD regio 1 codeert. Alvorens te kopen, zorg ervoor dat uw apparatuur kan afspelen deze regio's. Voor meer informatie over regiocodering klikt u op de onderstaande link:
Product notities
The various intersections between African-American history and the evolution of the Hollywood horror film receive a fascinating examination in this documentary. From '70s Blaxploitation to the first-to-die tropes of the '80s and '90s to the positive representations and political allegories of the modern era, perspectives from genre icons-before the camera (Tony Todd, Ken Foree, Rachel True) and behind (Jordan Peele, Rusty Cundieff, Ernest Dickerson)-and more are offered. 83 min. Widescreen; Soundtrack: English.