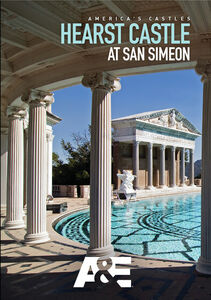 The Hearst Castle: America's Castles
(Manufactured on Demand, Dolby)
Release

8-9-2020

Film en TV Genre

Special Interest-Documentary

Media-indeling

DVD

Gelieve worden geadviseerd. Tenzij anders vermeld, alle BLU-RAY zijn regio A en alle DVD regio 1 codeert. Alvorens te kopen, zorg ervoor dat uw apparatuur kan afspelen deze regio's. Voor meer informatie over regiocodering klikt u op de onderstaande link:
Product notities
At a time when most of America was pinching pennies, media mogul William Randolph Hearst commissioned one of the largest and most extravagant homes ever built. The centerpiece of an estate nearly half the size of Rhode Island, the 165-room San Simeon overlooks the California countryside from a hilltop high above the Pacific. From the initial plans in 1918 to the commencement of all-access tours, HEARST CASTLE AT SAN SIMEON is a fascinating look at this extraordinary property. Rare home movies show it's construction (rumored to have cost $30 million) and offer a glimpse of Hearst's storybook life. See some of the pieces in the estate's exquisite art collection, and get a rare glimpse into rooms that have been declared off-limits to the public. AMERICA'S CASTLES invites you to explore this magnificent home at the heart of a private kingdom.
Beschrijving
| | |
| --- | --- |
| Titel: | The Hearst Castle: America's Castles |
| Genre: | Special Interest-Documentary |
| Studio: | A&E |
| Kenmerken: | Manufactured on Demand, Dolby |
| Releasedatum: | 8-9-2020 |
| Media-indeling: | DVD |
| Gewaardeerd: | G |
| UPC: | 733961747324 |
| Bewerkingstijd: | 50 minutes |
| Jaar van Release: | 1998 |