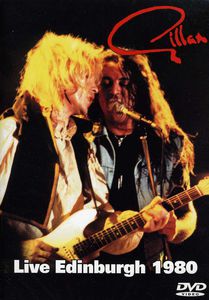 Live Edinburgh 1980
(Pal Format)
Release

4-4-2006

Film en TV Genre

Heavy Metal, Music Video (Concert/Performance)

Media-indeling

DVD

Video-indeling

PAL

Gelieve worden geadviseerd. Tenzij anders vermeld, alle BLU-RAY zijn regio A en alle DVD regio 1 codeert. Alvorens te kopen, zorg ervoor dat uw apparatuur kan afspelen deze regio's. Voor meer informatie over regiocodering klikt u op de onderstaande link:
Product notities
NTSC/Region 0. This is 1980 and it is the band Gillan's year. The album Glory Road entered the UK Charts at #3 and they had just returned from the USA from doing what they did best, which is playing live. The concert footage on this DVD was performed for and filmed by Scottish TV (STV) to an audience whom Gillan had eating out of their hands by the end of their performance. Includes bonus archive footage for 'Vengeance', 'Smoke on the Water' & 'Sleeping on the Job'. Anger Air. 2006.