Resultaten weergeven voor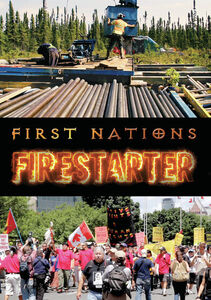 First Nations: Firestarter
(Manufactured on Demand, Full Frame, Dolby)
Release

10-9-2019

Film en TV Genre

Special Interest-Documentary

Media-indeling

DVD

Gelieve worden geadviseerd. Tenzij anders vermeld, alle BLU-RAY zijn regio A en alle DVD regio 1 codeert. Alvorens te kopen, zorg ervoor dat uw apparatuur kan afspelen deze regio's. Voor meer informatie over regiocodering klikt u op de onderstaande link:
Product notities
In 2001 a surveying team in Canada discovered a massive underground deposit of chromium, a metal essential to industrial society. Properly exploited, the find named the Ring of Fire would make Canada one of the largest chromium producers in the world. The only problem: the Ring of Fire is located on First Nations tribal land in northern Ontario, a wilderness area so remote that a billion-dollar transportation network would be necessary in order to set up mining operations. Told through interviews with tribal chiefs, business leaders, politicians and environmentalists, First Nations: Firestarter examines the controversies, risks and possible rewards that would come from exploiting the Ring of Fire, a project that promises prosperity for the impoverished First Nations peoples even as it threatens the sensitive ecosystem that has sustained them for generations.
Beschrijving
| | |
| --- | --- |
| Titel: | First Nations: Firestarter |
| Genre: | Special Interest-Documentary |
| Studio: | Adler & Associates |
| Kenmerken: | Manufactured on Demand, Full Frame, Dolby |
| Releasedatum: | 10-9-2019 |
| Media-indeling: | DVD |
| Gewaardeerd: | NR |
| UPC: | 810017884773 |
| Oorspronkelijke taal: | ENG |
| Bewerkingstijd: | 94 minutes |
| Jaar van Release: | 2019 |