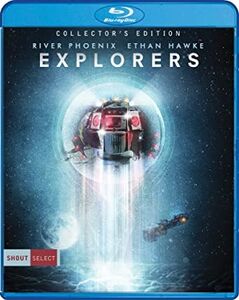 Preview
Explorers (Collector's Edition)
(Collector's Edition)
Release

25-5-2021

Film en TV Genre

Science Fiction, Family

Media-indeling

Blu-ray

Gelieve worden geadviseerd. Tenzij anders vermeld, alle BLU-RAY zijn regio A en alle DVD regio 1 codeert. Alvorens te kopen, zorg ervoor dat uw apparatuur kan afspelen deze regio's. Voor meer informatie over regiocodering klikt u op de onderstaande link:
Product notities
A couple of junior high outcast buddies-boy genius Wolfgang (River Phoenix) and media junkie Ben (Ethan Hawke)-start having shared dreams they can't account for. They find they've been given the schematics for a space vehicle from junkyard scraps, and the key to a wild and laugh-filled extraterrestrial adventure. Joe Dante's fun fantasy co-stars Jason Presson, James Cromwell, Dana Ivey, Robert Picardo, and the great Dick Miller. 109 min. Widescreen; Soundtrack: English; Subtitles: English.
Beschrijving
| | |
| --- | --- |
| Titel: | Explorers (Collector's Edition) |
| Genre: | Science Fiction, Family |
| Acteurs: | Ethan Hawke, River Phoenix, Jason Presson, Amanda Peterson, Bobby Fite, Dana Ivey, Taliesin Jaffe, James Cromwell, Robert Picardo, Karen Mayo-Chandler |
| Directeur: | Joe Dante |
| Studio: | Shout Factory |
| Kenmerken: | Collector's Edition |
| Releasedatum: | 25-5-2021 |
| Media-indeling: | Blu-ray |
| Gewaardeerd: | PG |
| UPC: | 826663208733 |
| Oorspronkelijke taal: | ENG |
| Bewerkingstijd: | 109 minutes |
| Jaar van Release: | 1985 |