Resultaten weergeven voor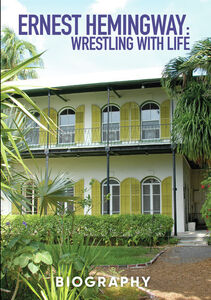 Ernest Hemingway: Biography
(Manufactured on Demand, Dolby)
Release

18-8-2020

Film en TV Genre

Special Interest-Documentary, Biography

Media-indeling

DVD

Gelieve worden geadviseerd. Tenzij anders vermeld, alle BLU-RAY zijn regio A en alle DVD regio 1 codeert. Alvorens te kopen, zorg ervoor dat uw apparatuur kan afspelen deze regio's. Voor meer informatie over regiocodering klikt u op de onderstaande link:
Product notities
Ernest Hemingway's novels rank among the most influential and celebrated in history, while his life remains an obscure image shrouded in myth. In this feature-length portrait narrated by the author's granddaughter, Mariel Hemingway, BIOGRAPHY examines the remarkable life story of this legendary Nobel laureate. It is a fascinating trip through his world from the hospital in Milan where he first found love to the resort community in the Midwest where he took his own life. Rare footage of Hemingway at rest, excerpts from his letters and unpublished works, and the recollections of those who knew him best shed light on his extraordinary journey. From the battlefields of Europe to the decks of Key West, join BIOGRAPHY for a compelling voyage through the life and legacy of one of the 20th century's most masterful writers.
Beschrijving
| | |
| --- | --- |
| Titel: | Ernest Hemingway: Biography |
| Genre: | Special Interest-Documentary, Biography |
| Studio: | A&E |
| Kenmerken: | Manufactured on Demand, Dolby |
| Releasedatum: | 18-8-2020 |
| Media-indeling: | DVD |
| Gewaardeerd: | TV14 |
| UPC: | 733961719307 |
| Bewerkingstijd: | 100 minutes |
| Jaar van Release: | 2020 |