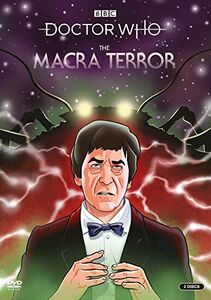 Doctor Who: The Macra Terror
(2 Pack, Eco Amaray Case)
Release

12-11-2019

Film en TV Genre

TV Sci-Fi, British-Television

Media-indeling

DVD

Gelieve worden geadviseerd. Tenzij anders vermeld, alle BLU-RAY zijn regio A en alle DVD regio 1 codeert. Alvorens te kopen, zorg ervoor dat uw apparatuur kan afspelen deze regio's. Voor meer informatie over regiocodering klikt u op de onderstaande link:
Product notities
Doctor Who: The Macra Terror - The Macra Terror is the completely missing seventh serial of the fourth season in the British science fiction television series Doctor Who, which was first broadcast in four weekly parts from 11 March to 1 April 1967. It focuses on the Second Doctor, Ben, Polly and Jamie unravelling a mystery on a human colony planet in the future, and introduces the alien race known as the Macra. Although audio recordings, still photographs, and clips of the story exist, no episodes of this serial are known to have survived.