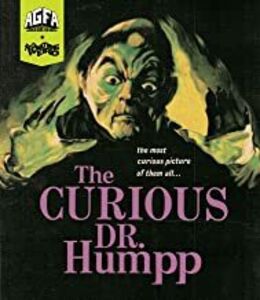 The Curious Dr. Humpp
Release

26-1-2021

Media-indeling

Blu-ray

Gelieve worden geadviseerd. Tenzij anders vermeld, alle BLU-RAY zijn regio A en alle DVD regio 1 codeert. Alvorens te kopen, zorg ervoor dat uw apparatuur kan afspelen deze regio's. Voor meer informatie over regiocodering klikt u op de onderstaande link:
Product notities
Curious exploitation fans will not want to miss this outrageous Argentinean-made study of a twisted doctor who invents an aphrodisiac that turns people into insatiable sex fiends. Aided by robotic monsters and a brain in a jar, Dr. Humpp tries to dominate the world through sex... while isolating the lesbians in a separate room! Stars Aldo Barbero, Ricardo Bauleo, Gloria Prat. 87 min. Standard; Soundtrack: English (dubbed). Dubbed in English.
Beschrijving
| | |
| --- | --- |
| Titel: | The Curious Dr. Humpp |
| Genre: | Horror, Cult |
| Acteurs: | Ricardo Bauleo, Gloria Prat, Aldo Barbero, Susana Beltrán, Justin Martin, Michel Angel, Mary Albano, Al Bugatti, Héctor Biuchet, Greta Williams |
| Directeur: | Emilio Vieyra |
| Studio: | American Genre Film |
| Releasedatum: | 26-1-2021 |
| Media-indeling: | Blu-ray |
| UPC: | 814456023021 |
| Oorspronkelijke taal: | ENG, SPA |
| Ondertitels: | ENG |
| Bewerkingstijd: | 87 minutes |
| Jaar van Release: | 1969 |