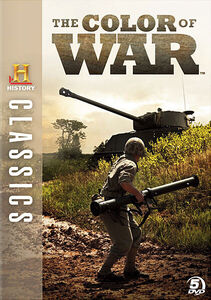 The Color of War
(Amaray Case, O-Card Packaging)
Release

14-8-2012

Film en TV Genre

Special Interest-War

Media-indeling

DVD

Gelieve worden geadviseerd. Tenzij anders vermeld, alle BLU-RAY zijn regio A en alle DVD regio 1 codeert. Alvorens te kopen, zorg ervoor dat uw apparatuur kan afspelen deze regio's. Voor meer informatie over regiocodering klikt u op de onderstaande link:
Product notities
An award-winning documentary filled with striking images, THE COLOR OF WAR is a spectacle of color, sights, sounds, and memories. At it's core, World War II was a black-and-white struggle between good and evil. But the everyday scenes of carnage, human resistance, and guttural warfare were much more complex. A striking assemblage of color footage and photographs from national archives and private collections, THE COLOR OF WAR delivers striking perspectives on the day-to-day experience from every imaginable angle. From the first draftees thrown into the breach to the sheer boredom between battles to the uniforms worn and the objects carried, this unparalleled collection of voices is further illuminated by letters and diaries, communiqués from the battlefield and the sounds and songs of the era. Narrated by Peter Coyote, the 13 programs included in THE COLOR OF WAR constitute the most extensive all-color documentary ever produced on the Second World War. THE COLOR OF WAR contains 13 acclaimed documentaries on 5 DVDs Volume 1: Face to Face / Air War / Battleground Volume 2: At Ease / Anchors Aweigh Volume 3: Silent and Deep / Home front / the Price of War Volume 4: Victory / Aftermath / Man and Machine Volume 5: Covering War / Dressed to Kill.
Beschrijving
| | |
| --- | --- |
| Titel: | The Color of War |
| Genre: | Special Interest-War |
| Studio: | A&E Home Video |
| Aantal discs: | 5 |
| Kenmerken: | Amaray Case, O-Card Packaging |
| Releasedatum: | 14-8-2012 |
| Media-indeling: | DVD |
| UPC: | 733961274431 |
| Oorspronkelijke taal: | ENG |
| Gesloten Bijschrift: | No |
| Jaar van Release: | 2001 |