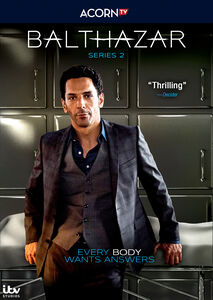 Balthazar: Series 2
Release

6-10-2020

Film en TV Genre

TV Crime, Television

Media-indeling

DVD

Gelieve worden geadviseerd. Tenzij anders vermeld, alle BLU-RAY zijn regio A en alle DVD regio 1 codeert. Alvorens te kopen, zorg ervoor dat uw apparatuur kan afspelen deze regio's. Voor meer informatie over regiocodering klikt u op de onderstaande link:
Product notities
Widowed Paris forensic pathologist Raphaël Balthazar (Tomer Sisley) is amongst the best at what he does... even if his methodology involves carrying on conversations with the deceased victims brought before him. Newly appointed chief inspector Hélène Bach (Hélène de Fougerolles) hasn't much stomach for his eccentricities or arrogance, but can't quibble with the results. Flavorful French procedural that aired on TF1 co-stars Yannig Samot, Philypa Phoenix, Côme Levin, Pauline Cheviller.10 episodes on 3 discs. 8 1/3 hrs. Widescreen; Soundtrack: French; Subtitles: English. In French with English subtitles.
Beschrijving
| | |
| --- | --- |
| Titel: | Balthazar: Series 2 |
| Genre: | TV Crime, Television |
| Acteurs: | Tomer Sisley |
| Studio: | Acorn Media |
| Aantal discs: | 3 |
| Releasedatum: | 6-10-2020 |
| Media-indeling: | DVD |
| Gewaardeerd: | TVMA |
| UPC: | 054961285495 |
| Oorspronkelijke taal: | FRE |
| Ondertitels: | ENG |
| Bewerkingstijd: | 517 minutes |
| Jaar van Release: | 2019 |