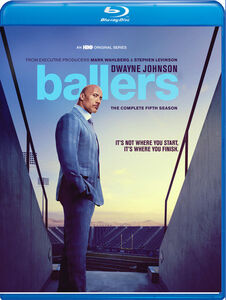 Ballers: The Complete Fifth Season
(Manufactured on Demand)
Release

28-1-2020

Film en TV Genre

TV Comedy, Television

Media-indeling

Blu-ray

Gelieve worden geadviseerd. Tenzij anders vermeld, alle BLU-RAY zijn regio A en alle DVD regio 1 codeert. Alvorens te kopen, zorg ervoor dat uw apparatuur kan afspelen deze regio's. Voor meer informatie over regiocodering klikt u op de onderstaande link:
Product notities
Dwayne Johnson stars in this HBO dramedy series that focuses on the lives of a group of former and current NFL players. After a successful career, retired Miami Dolphins star Spencer Strasmore (Johnson) attempts to secure his own future by becoming a financial advisor to his younger counterparts, trying to help them prepare for the harsh realities that can come with a life after football. With John David Washington, Omar Benson Miller, Donovan W. Carter, Troy Garity, Jazmyn Simon, and Rob Corddry.8 episodes. Widescreen; Soundtrack: English; Subtitles: English (SDH), French.