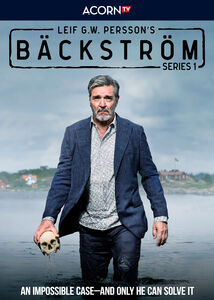 Bäckström: Series 1
(2 Pack)
Release

6-7-2021

Film en TV Genre

TV Crime, Television

Media-indeling

DVD

Gelieve worden geadviseerd. Tenzij anders vermeld, alle BLU-RAY zijn regio A en alle DVD regio 1 codeert. Alvorens te kopen, zorg ervoor dat uw apparatuur kan afspelen deze regio's. Voor meer informatie over regiocodering klikt u op de onderstaande link:
Product notities
Evert Bäckström is a rock star among cops. Starring as a TV expert doesn't help his ego or reputation. He thinks he's a genius—and he is, at solving crimes. When a woman's skull is found, it seems she was murdered recently, but DNA points to her death in the 2004 tsunami. Prosecutor Hanna Hwass believes it's a mistake, but Bäckström sees a case only he can solve: a woman who has died twice.
DEETS:
YEAR - 2020
RATING - TV-14
SCREEN - Widescreen
ASPECT RATIO - 2.0:1
COLOR
# OF DISCS - 2
Bäckström, Series 1