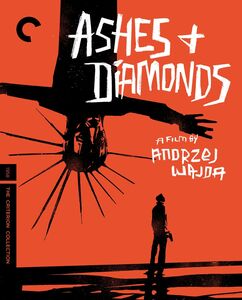 Ashes and Diamonds (Criterion Collection)
(Subtitled)
Release

24-8-2021

Film en TV Genre

Drama, Foreign-Polish

Media-indeling

Blu-ray

Gelieve worden geadviseerd. Tenzij anders vermeld, alle BLU-RAY zijn regio A en alle DVD regio 1 codeert. Alvorens te kopen, zorg ervoor dat uw apparatuur kan afspelen deze regio's. Voor meer informatie over regiocodering klikt u op de onderstaande link:
Product notities
In the waning days of World War II, young Polish Resistance fighter Maciek (Zbigniew Cybulski)-charged with assassinating an incoming commissar-shoots the wrong man. Ordered to make good, his lessening appetite for the mission wanes further still as he finds himself falling in love with a local barmaid (Ewa Krzyzewska). Andrzej Wajda's haunting take on the Jerzy Andrzejewski novel also stars Adam Pawlikowski, Bogumił Kobiela. 103 min. Widescreen (Enhanced); Soundtrack: Polish Dolby Digital mono; Subtitles: English; audio commentary; featurettes; newsreel footage. In Polish with English subtitles.