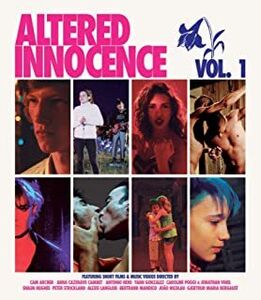 Altered Innocence, Volume 1
Release

25-5-2021

Film en TV Genre

Drama

Media-indeling

Blu-ray

Gelieve worden geadviseerd. Tenzij anders vermeld, alle BLU-RAY zijn regio A en alle DVD regio 1 codeert. Alvorens te kopen, zorg ervoor dat uw apparatuur kan afspelen deze regio's. Voor meer informatie over regiocodering klikt u op de onderstaande link:
Product notities
Nearly 3 hours of LGBTQ and Coming-of-Age short films and music videos await you in the debut of Altered Innocence's cinematic mixtape supreme! Films from established auteurs like Peter Strickland, Cam Archer, João Nicolau, and Yann Gonzalez join fresh new voices such as Alexis Langlois, Shaun Hughes, Caroline Poggi, and Jonathan Vinel. Cruising, dancing, naked wrestling, trans terrorism, first love, bullies, femme fatales, band practice, and more is in store! List of Films: Our Time (Imperial Teen) by Cam Archer (New HD Restoration), Gabber Lover by Anna Cazenave Cambet, Doors Cut Down by Antonio Hens (HD Restoration), Les Vacances Continuent (Perez) by Yann Gonzalez, After School Knife Fight by Caroline Poggi & Jonathan Vinel, Bunny by Shaun Hughes, GUO4 by Peter Strickland, Terror, Sisters! By Alexis Langlois, Niemand (Kompromat) by Bertrand Mandico, Gambozinos (Wild Haggis) by João Nicolau, Jakt (Hunt) by Gjertrud Maria Bergaust.
Beschrijving
| | |
| --- | --- |
| Titel: | Altered Innocence, Volume 1 |
| Genre: | Drama |
| Studio: | Altered Innocence |
| Releasedatum: | 25-5-2021 |
| Media-indeling: | Blu-ray |
| Gewaardeerd: | NR |
| UPC: | 688187004013 |
| Oorspronkelijke taal: | ENG, FRE |
| Bewerkingstijd: | 164 minutes |
| Jaar van Release: | 2021 |