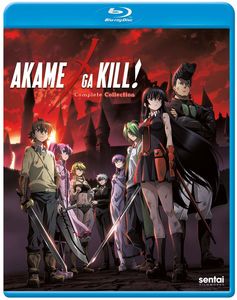 Akame Ga Kill: Complete Collection
(Subtitled, Anamorphic)
Release

4-12-2018

Film en TV Genre

Anime-Japanese

Media-indeling

Blu-ray

Gelieve worden geadviseerd. Tenzij anders vermeld, alle BLU-RAY zijn regio A en alle DVD regio 1 codeert. Alvorens te kopen, zorg ervoor dat uw apparatuur kan afspelen deze regio's. Voor meer informatie over regiocodering klikt u op de onderstaande link:
Product notities
When Tatsumi set off for the Capital, it was with fantasies of earning riches for his poverty-stricken hometown. Instead, his friends were murdered and Tatsumi finds himself at the center of a bloody revolution. With an evil Prime Minister, the Secret Police, and the armies of an Empire on one side, and the elite assassins known as Night Raid and a handful of rebels on the other, it might sound like an impossible battle for Tatsumi's new allies to win. However the playing field is leveled with the addition of a legendary set of unstoppable weapons, the Imperial Arms. Unfortunately, to use an Imperial Arm is practically a death sentence in itself, for while the Arms are indestructible, few wielders can survive using them for long!
Akame ga Kill the Complete Collection contains anime episodes 1-24.
Akame ga Kill Complete Collection Blu-ray