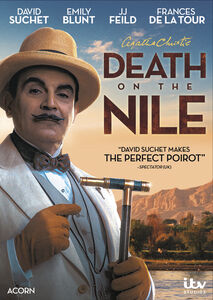 Agatha Christie's Death on the Nile
Release

29-9-2020

Film en TV Genre

TV Crime, British-Television

Media-indeling

DVD

Gelieve worden geadviseerd. Tenzij anders vermeld, alle BLU-RAY zijn regio A en alle DVD regio 1 codeert. Alvorens te kopen, zorg ervoor dat uw apparatuur kan afspelen deze regio's. Voor meer informatie over regiocodering klikt u op de onderstaande link:
Product notities
Acclaimed telefilm take on the mystery staple for "Agatha Christie's Poirot" finds the Belgian master sleuth (David Suchet) enjoying an Egypt-bound cruise, which becomes far less leisurely after the bitter rivalry between two fellow passengers-a just-married American heiress (Emily Blunt) and the jilted ex-fiance (Emma Griffiths Malin) of her husband (JJ Feild)-turns deadly. James Fox, David Soul, Frances de la Tour, Zoe Telford, Judy Parfitt also star. 97 min. Widescreen; Soundtrack: English.
Beschrijving
| | |
| --- | --- |
| Titel: | Agatha Christie's Death on the Nile |
| Genre: | TV Crime, British-Television |
| Acteurs: | David Suchet, James Fox, Emma Griffiths Malin, JJ Feild, Emily Blunt, Judy Parfitt, Daisy Donovan, Barbara Flynn, Daniel Lapaine, David Soul |
| Directeur: | Andy Wilson |
| Studio: | Acorn Media |
| Releasedatum: | 29-9-2020 |
| Media-indeling: | DVD |
| Gewaardeerd: | TV14 |
| UPC: | 054961285297 |
| Oorspronkelijke taal: | ENG |
| Ondertitels: | ENG |
| Bewerkingstijd: | 102 minutes |
| Jaar van Release: | 2004 |