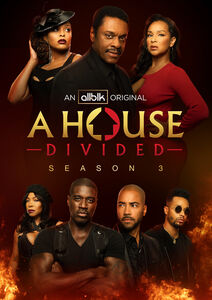 A House Divided: Season 3
(Subtitled, 2 Pack)
Release

28-9-2021

Film en TV Genre

TV Drama, Television

Media-indeling

DVD

Gelieve worden geadviseerd. Tenzij anders vermeld, alle BLU-RAY zijn regio A en alle DVD regio 1 codeert. Alvorens te kopen, zorg ervoor dat uw apparatuur kan afspelen deze regio's. Voor meer informatie over regiocodering klikt u op de onderstaande link:
Product notities
\x22The Sanders family continues to navigate chaos and turmoil as their world rapidly unravels in the worst possible way. Between fending off attacks from rivals to battling their inner demons, things are heating up as danger is increasing for the whole clan and their past seems to be catching up to them. A new season, a new set of twists and turns reveal the fate of this once all\-powerful empire.
Beschrijving
| | |
| --- | --- |
| Titel: | A House Divided: Season 3 |
| Genre: | TV Drama, Television |
| Studio: | Image Entertainment |
| Aantal discs: | 2 |
| Kenmerken: | Subtitled, 2 Pack |
| Releasedatum: | 28-9-2021 |
| Media-indeling: | DVD |
| Gewaardeerd: | TVMA |
| UPC: | 014381134162 |
| Oorspronkelijke taal: | ENG |
| Ondertitels: | ENG |
| Bewerkingstijd: | 280 minutes |